Resources for Faculty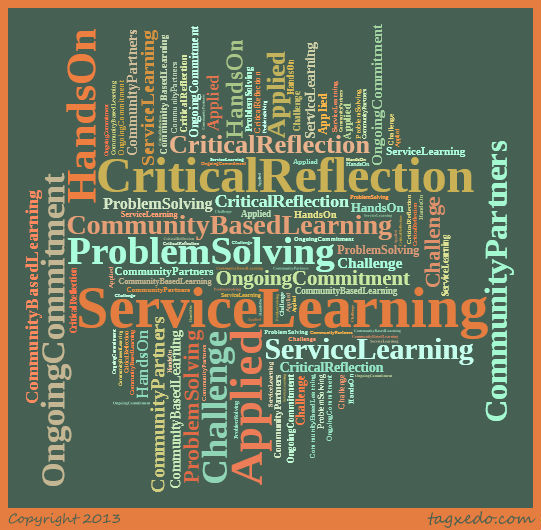 Service Learning
There are many ways to incorporate civic engagement into instruction of your courses.  Service-learning is one of those ways.  Below you'll find a basic definition and examples of service-learning courses in various disciplines. You will probably find the CIVIC ENGAGEMENT IN THE CLASSROOM link useful as well.
What is Service-Learning?
"Service-learning is a form of experiential education in which students engage in activities that address human and community needs together with structured opportunities intentionally designed to promote student learning and development.  Reflection and reciprocity are key concepts of service-learning."  (Jacoby, 1996)
Top Ten Reasons Why Service-Learning is a Valued Part of Higher Education:
SL increases the relevance of general education classes and theory-based classes. It grounds knowledge in meaningful experiences. 
SL assists students in assuming responsibility for participation in civic, social, and environmental awareness activities of the communities in which they live.
An important part of the mission of public universities is to educate students to be active citizens in a democratic society.
• SL increases understanding of community problems at a "personal, professional, and conceptual level." (University of Utah Lowell Bennion Center, 1995).
• SL increases understanding of how our world is interconnected (Boyer,1990).
SL results in stronger analytical and critical thinking skills and improved communication skills.
SL offers students structured opportunities to work more closely with faculty, often improving learning and retention.
SL students note that they gain deeper understanding of issues and feel more confident to use the information they lad learned (Eyler and Giles, 1999).
SL encourages greater student input and responsibility in deciding what and how they will learn (Vernon and Blake, 1993).
SL often yields personal insight, growth, and values clarification; these are considered important aspects of student development.
SL provides a way for students to make a difference in their communities as part of a relevant, credit-bearing class experience.
Universities try to accommodate changes in student learning styles, preferences, and goals:
• Many students prefer the hands-on , practical methods of active learning, like SL. SL makes every day experiences be the subject matter for learning.  SL involves the whole person in learning: knowing and doing, emotions and intellect.
• SL taps students' growing interest in service (as seen in the rise of volunteerism).
• College students today learn well outside the classroom.
• SL opens student's job contacts and networks, and provides students with documented experiences for their resume.
(acquired from Boise State University)
Examples of Service-Learning  Opportunities at SMSU
Environmental Science: Students enrolled in ecology and environmental toxicology courses work with senior high and junior students to assess stream habitat changes in the Marshall area and create an improved GIS stream database.

Wellness and Human Performance: Students enrolled in various wellness and human performance courses provide hearing and vision testing to local public school kids, sponsor health fairs, host the Mustang Rodeo event for regional children with disabilities, and provide physical education training for home-schooled kids.

Justice Administration: Students enrolled in Introduction to Justice and Societies, Court and Corrections Management, and Criminal Law courses have an option to sign up for a one-credit service-learning lab involving the development of GIS maps for area court system needs.

Psychology: Students enrolled in selected sections of General Psychology who have an interest in child and adolescent development have an option to be involved with various after-school tutoring programs or help out with the annual Mustang Rodeo event.

MBA Program: Students enrolled in selected graduate-level business courses have the opportunity to do hands-on work that will directly benefit the surrounding rural communities.  Recent courses have included developing uses for vacant buildings as well as a plan for eradicating curly-leaf pondweed in Lake Benton, MN.
Faculty interested in creating a service-learning portion in their course may contact the Center for Civic and Community Engagement at civic.engagement@smsu.edu or visit BA161 to look at sample syllabi and check-out related books and materials.


  Find Us on Facebook

Find Us on Twitter