University Brand Standards
Southwest Minnesota State University is grounded in a resilient spirit of continuous improvement. Our brand is no exception. To succeed in our mission, we have to present ourselves in a way that's compelling and consistent.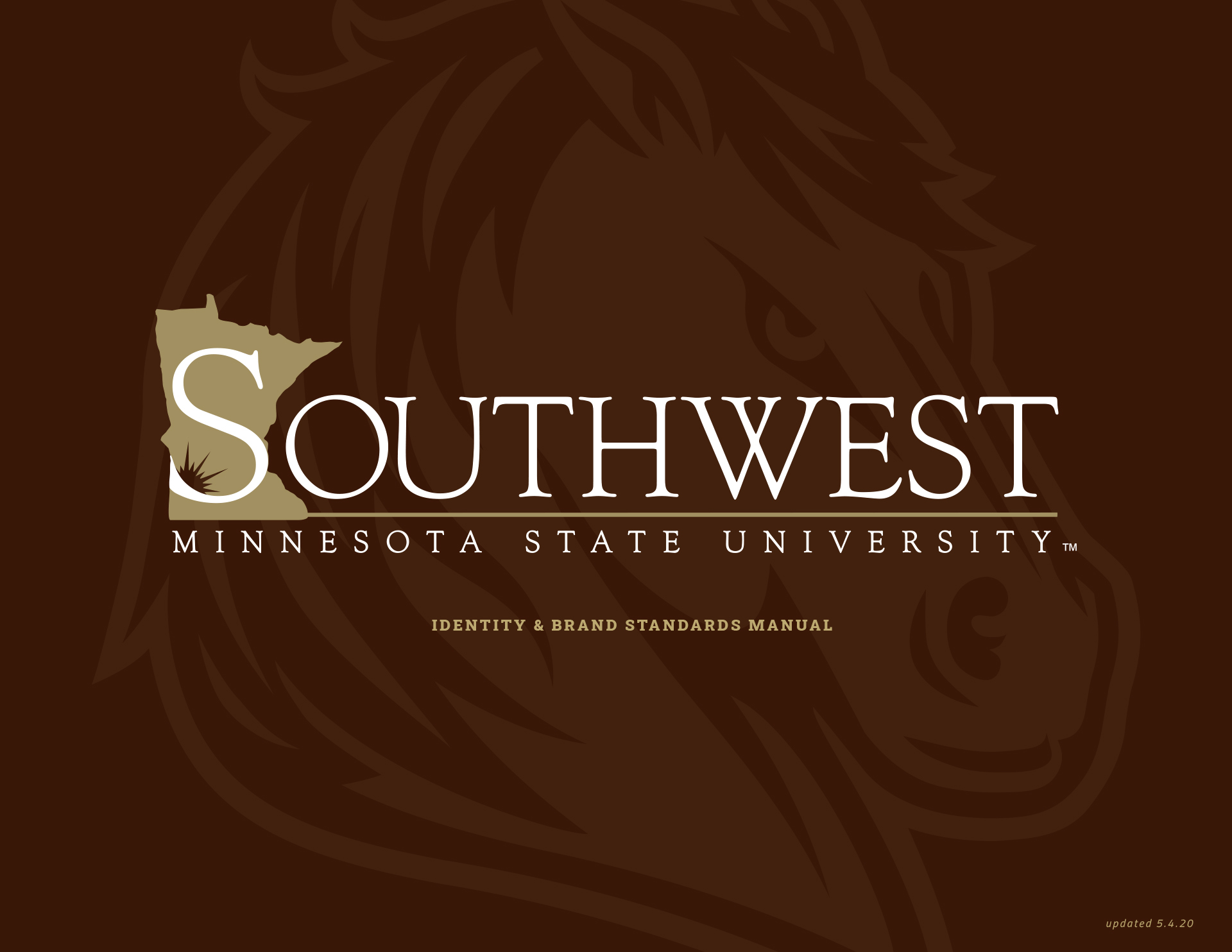 SMSU's Identity & Brand Standards Manual
The Identity & Brand Standards Manual introduces SMSU's redefined brand and is meant as a guide for all internal parties, agency partners and vendors to follow. From our system of logos and color scheme to our messaging and tone, it's imperative to utilize these standards in order to create meaningful, lasting connections.
The better our ability to share the SMSU story, the more immediate associations we can create. By consistently applying these guidelines, you can be sure all visual communications you produce will comply with brand standards and marketing strategies, ultimately building a stronger SMSU brand.
If you have any questions regarding the application of these standards, please contact the Communication & Marketing Office at communications@smsu.edu.
A PDF copy of the Branding Presentation given at the 2023 Development Day on May 31, 2023 is available here for download.
Download a PDF of the Brand Standards Manual here.
What is Collegiate Trademark Licensing?
Among colleges and universities, countless third parties wish to associate themselves commercially with a school's tremendous prestige and spirit.
The University asserts ownership and all right, title, and interest in and to its logos, which includes trademarks, service marks, trade names, designs, logos, seals, symbols, mascots, slogans and any other logo that is associated with or refers to the University.
The purpose of the program at SMSU is to protect and monitor the use of its logos as well as verify the quality and appropriateness of products, promotions, and advertising upon which those logos are used. It also ensures that the University receives the appropriate commercial value to compensate for the use of its trademarked logos, name, and verbiage.
Please note that all SMSU language and logos are trademarked. All uses must be approved in advance and must meet licensing and trademark requirements. Contact Communications and Marketing Office staff with questions.
Logos and Licensing
Any project (including apparel and promotional items) that will utilize the official SMSU logos, likeness, language, verbiage and official names should be coordinated with our office. Promotional items must be produced by a licensed vendor. Artwork must be reviewed approved by SMSU prior to printing/ordering. The official logos are trademarked and subject to all legal guidelines for licensing and use.
A current list of licensees will be made available here from our licensing agent, Learfield. Additional vendors and licensees are added regularly so check here regularly for the new lists:
Click to download the PDF: Licensed Vendor List
For more information, contact the Office of Communications and Marketing at 507-537-6255 or email communications@smsu.edu
Your Southwest Minnesota State University email signature is your digital business card. It's important to present your email signature in a professional and unified manner like a traditional printed business card.
This email signature template contains 2 color variations (Institutional Brown & Black) as well as a version with a logo and one without a logo. This template is in Word format so you can copy and paste it right into your Outlook and Office365 accounts.
---
Preview with logo: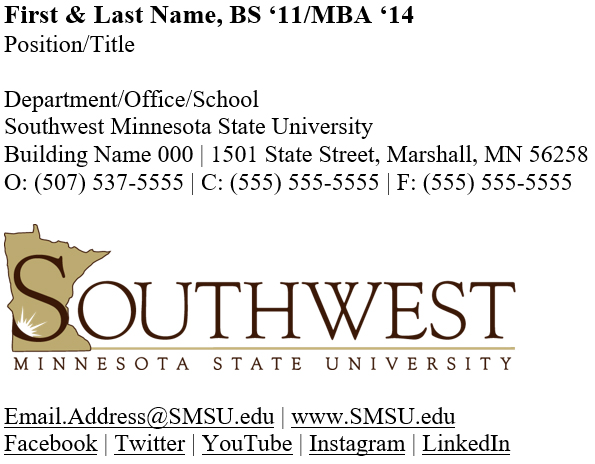 Preview without logo: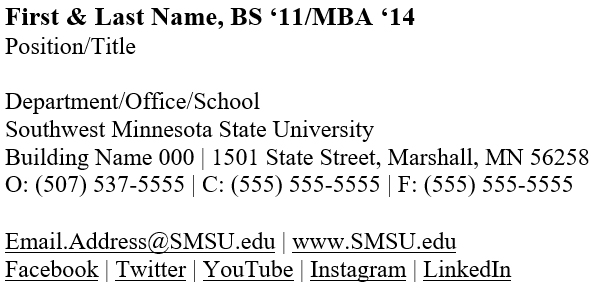 ---
Be sure to include your updated signature on your Microsoft Outlook and Office 365 accounts.
How to Format Your Signature
Name
Font: Times New Roman
Color: Black (recommended)
or Brown (using only this color mix, Red: 58, Green: 24, Blue: 7)
Format: Bold
Size: 11 pt
Title and Contact Information Section
Font: Times New Roman
Color: Black
or Brown (using only this color mix, Red: 58, Green: 24, Blue: 7)
Format: Regular
Size: 10 pt
Please spell out Southwest Minnesota State University. Do not use abbreviations of our name such as "Southwest MN State University" or "SW Minn State University" in your email signature. These are not approved or official abbreviations of our institutional name.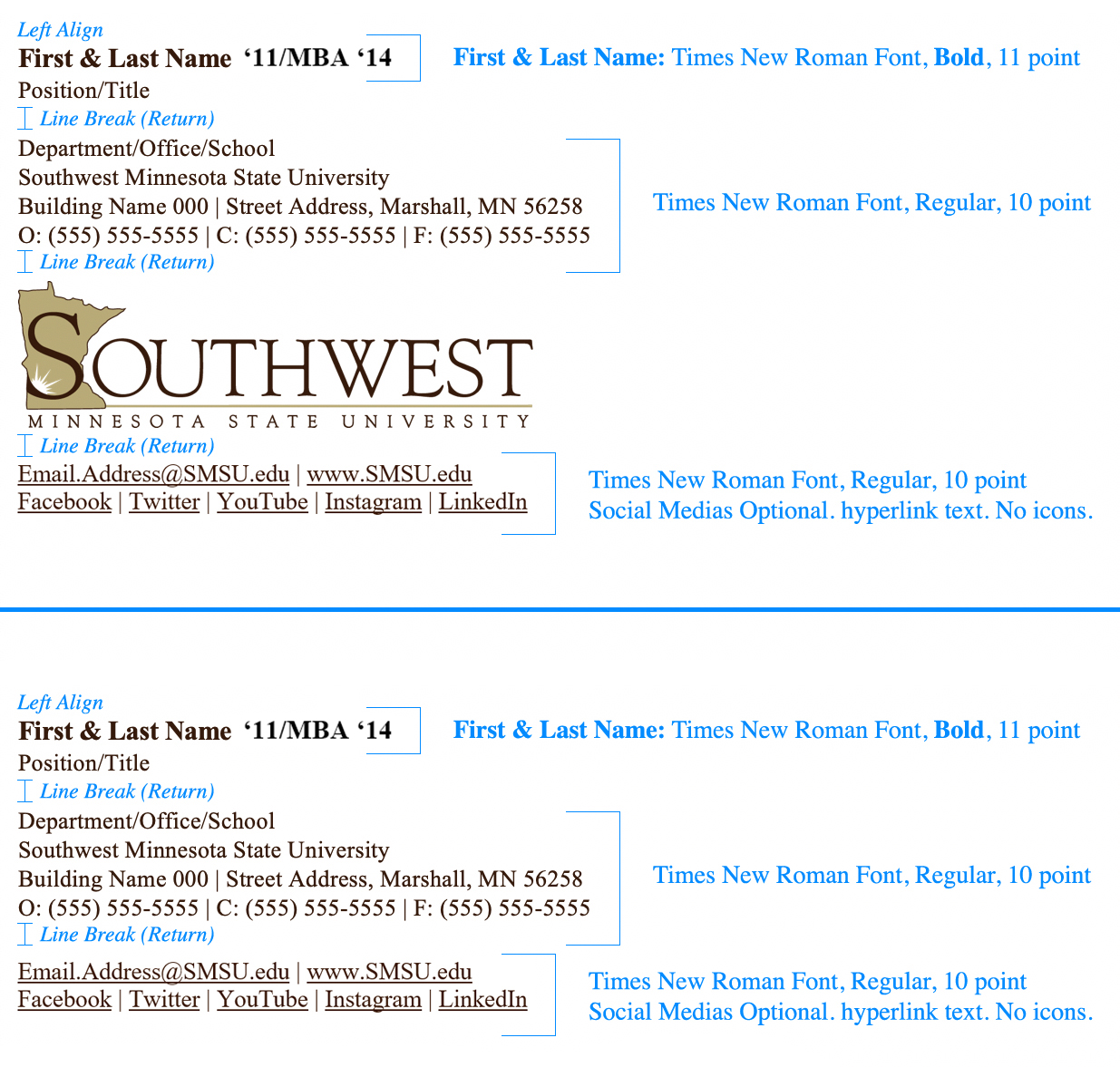 Color
Do not use colors outside of black or the Institution color Brown (Red: 58, Green: 24, Blue: 7).
Confidentiality and Other Disclaimers
Please include confidentiality and other types of disclaimers when necessary based on position and department needs. Disclaimers used by multiple individuals in one area or unit should be consistent from signature to signature.
Disclaimers recommendations:
Location —a few line returns under your email signature
Size — a point size or two smaller than the body copy of an email
Color — black or dark gray
Email and Web Addresses
Underline: Email and web addresses should be hyperlinked and underlined.
Capitalize SMSU: Capitalize all occurrences of SMSU in an email address and before the ".edu" of a web address.
Example: Email.Address@SMSU.edu or www.SMSU.edu
Color: If possible, change default blue links to an acceptable color, such as black.
Font
Outlook users: Times New Roman
Non-Outlook users: Times New Roman
Do not use scripts or novelty fonts.
Labels
Single, capitalized letters are used to label contact information.
Phone: P
Office Phone: O
Direct Phone: D
Cellphone: C
Fax: F
Email: E (optional)
Website: W (optional)
If only one phone number is listed, P can be used or the label can be eliminated. If you think the single letters will be confusing, you may spell out the labels.
Reply Message Signature
Reply email signatures can be automated in Microsoft Outlook. A simplified reply signature can be developed following the original signature format, but reducing content to the following required information:
Name
Phone number(s)
Southwest Minnesota State University
Social Media
SMSU social media accounts can be promoted in email signatures. To list social media accounts write out the site's name and hyperlink the text directly to the SMSU account. Do not include icons for social media sites.
Taglines and Quotes
Personal quotes and inspirational sayings should NOT be included in official SMSU signatures.
Pronouns
Many employees have begun to add preferred pronouns to their email signatures. If you choose to add your preferred pronouns these may be added in a line below the email/web address. For example:
First.Name@SMSU.edu | www.SMSU.edu
Pronouns: She/Her/Hers
Any questions you have about email signatures, please contact Communications and Marketing staff.
The Style and Usage Guide has been developed to help you with elements of writing and formatting of your documents and web pages that serve as official correspondence on behalf of the University. While some styles are based on personal preference the Office of Communications and Marketing has developed this guide to outline a consistent style for SMSU.