Your Southwest Minnesota State University email signature is your digital business card. It's important to present your email signature in a professional and unified manner like a traditional printed business card.
This email signature template contains 2 color variations (Institutional Brown & Black) as well as a version with a logo and one without a logo. This template is in Word format so you can copy and paste it right into your Outlook and Office365 accounts.
---
Preview with logo: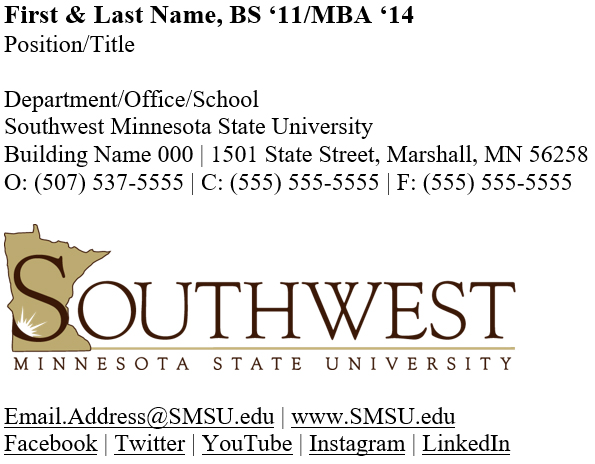 Preview without logo: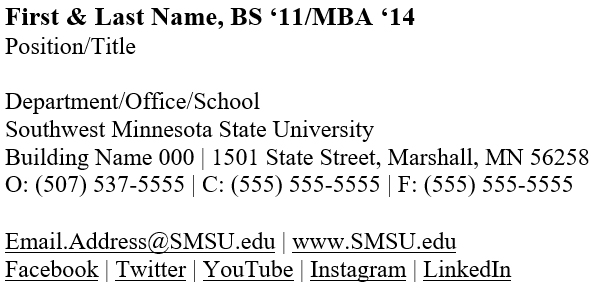 ---
Be sure to include your updated signature on your Microsoft Outlook and Office 365 accounts.
How to Format Your Signature
Name
Font: Times New Roman
Color: Black (recommended)
or Brown (using only this color mix, Red: 58, Green: 24, Blue: 7)
Format: Bold
Size: 11 pt
Title and Contact Information Section
Font: Times New Roman
Color: Black
or Brown (using only this color mix, Red: 58, Green: 24, Blue: 7)
Format: Regular
Size: 10 pt
Southwest Minnesota State Univerity
Please spell out Southwest Minnesota State University. Do not use abbreviations of our name such as "Southwest MN State University" or "SW Minn State University" in your email signature. These are not approved or official abbreviations of our institutional name.
SMSU ALUMNI: Listing Years After Your Name
Many SMSU employees are also proud alumni. Listing graduation year(s) after names are ONLY used in reference to degrees awarded by SMSU. Year of undergraduate degree is listed first. Year of graduate degree is listed after MBA or MS.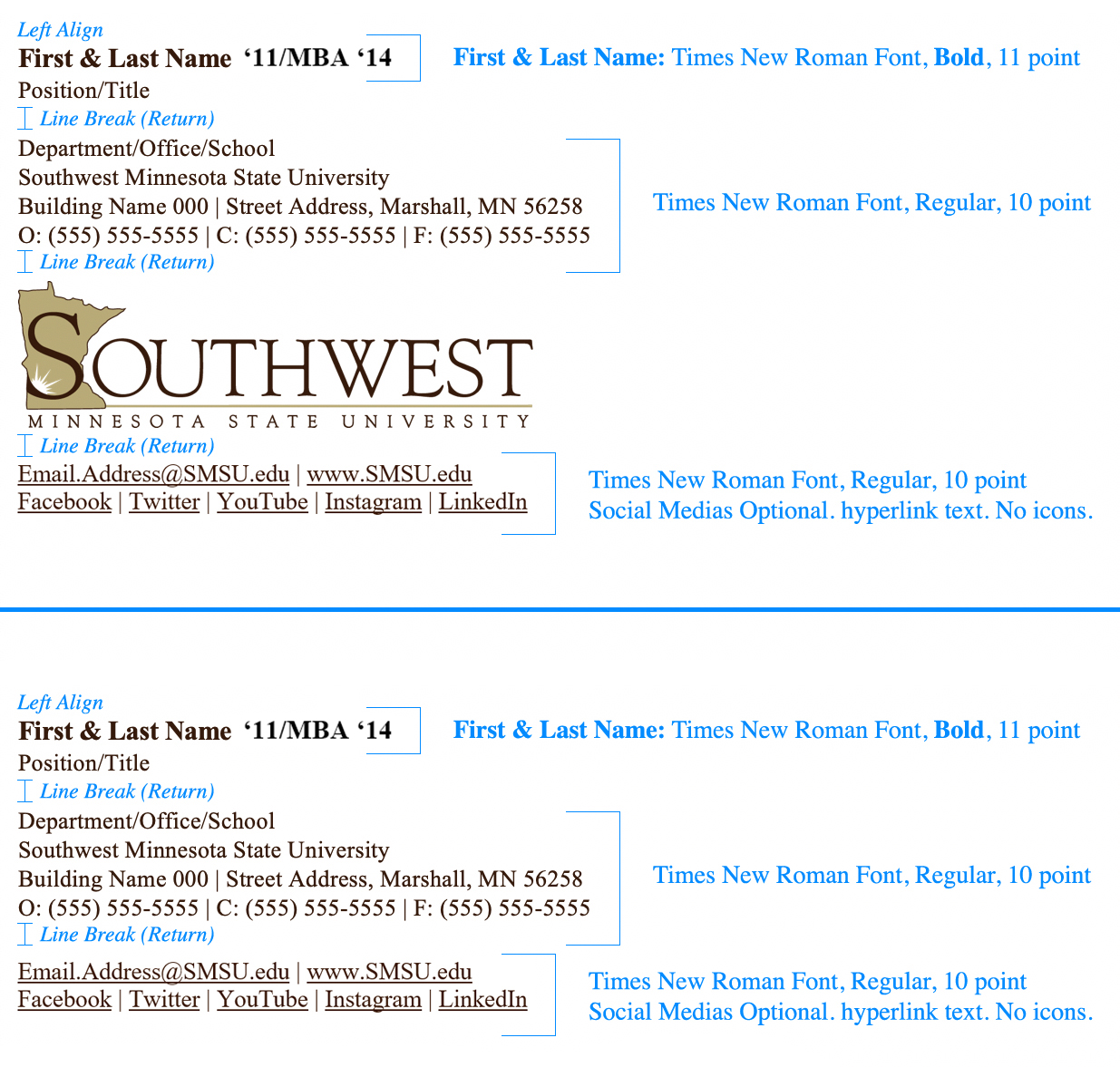 Color
Do not use colors outside of black or the Institution color Brown (Red: 58, Green: 24, Blue: 7).
Confidentiality and Other Disclaimers
Please include confidentiality and other types of disclaimers when necessary based on position and department needs. Disclaimers used by multiple individuals in one area or unit should be consistent from signature to signature.
Disclaimers recommendations:
Location —a few line returns under your email signature
Size — a point size or two smaller than the body copy of an email
Color — black or dark gray
Email and Web Addresses
Underline: Email and web addresses should be hyperlinked and underlined.
Capitalize SMSU: Capitalize all occurrences of SMSU in an email address and before the ".edu" of a web address.
Example: Email.Address@SMSU.edu or www.SMSU.edu
Color: If possible, change default blue links to an acceptable color, such as black.
Font
Outlook users: Times New Roman
Non-Outlook users: Times New Roman
Do not use scripts or novelty fonts.
Labels
Single, capitalized letters are used to label contact information.
Phone: P
Office Phone: O
Direct Phone: D
Cellphone: C
Fax: F
Email: E (optional)
Website: W (optional)
If only one phone number is listed, P can be used or the label can be eliminated. If you think the single letters will be confusing, you may spell out the labels.
Reply Message Signature
Reply email signatures can be automated in Microsoft Outlook. A simplified reply signature can be developed following the original signature format, but reducing content to the following required information:
Name
Phone number(s)
Southwest Minnesota State University
Social Media
SMSU social media accounts can be promoted in email signatures. To list social media accounts write out the site's name and hyperlink the text directly to the SMSU account. Do not include icons for social media sites.
Taglines and Quotes
Personal quotes and inspirational sayings should NOT be included in official SMSU signatures.
Pronouns
Many employees have begun to add preferred pronouns to their email signatures. If you choose to add your preferred pronouns these may be added in a line below the email/web address. For example:
First.Name@SMSU.edu | www.SMSU.edu
Pronouns: She/Her/Hers
Any questions you have about email signatures, please contact Communications and Marketing staff.
Last Modified: 6/11/20 8:50 AM