Sharon Carlson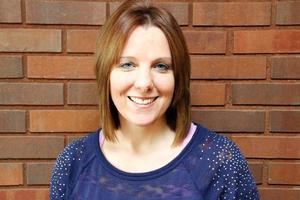 Sharon Carlson decided to go with her heart.
"I was always passionate about the environment. I used to work with the DNR, at a couple of parks, and I really enjoyed those experiences."
So after eight years working as a nurse, she followed her heart and returned to SMSU to earn her Environmental Science degree, which she'll have at the end of this semester.
Sharon will be a part of the 8th Annual Undergraduate Research Conference on December 4, 2013 at SMSU. Her poster presentation is entitled "Investigations of Radon Levels in SW Minnesota."
She measured the radon levels in 10 separate houses in five communities — Marshall, Granite Falls, Balaton, Woodstock and Pipestone.
Research has shown that Minnesota has one of the highest radon levels of any state. "Eighty percent of the countries have a radon level of 4 picocuries." A picocurie, she explained, measures how much radon radioactivity decays in a liter of air per minute.
"It's due to glacial deposits left behind. Pretty much all soils around here are made up of granite and shale from glacial deposits. Uranium comes from granite and shale, and uranium breaks down to radium, and that breaks down into radon."
The radon attaches itself to dust particles in the air, "and when you breath in these dust particles that have radioactive elements in them it gets into your lungs, and that's where lung cancer comes in. Over time, long-term exposure can turn into lung cancer."
Radon, she said, is the second-leading cause of lung caner in the U.S.
"Homeowners should test their homes," she said. "You can buy a test kit at the (Lyon County) courthouse for $6. The instructions are easy to follow, and that pays for the kit to go to a lab in North Carolina and be tested."
Her research showed that yes, the radon levels did fluctuate, based on several factors, including the age of the home, whether the foundation had cracks, and the soil composition, among others.
She worked for the DNR for 14 years — 4 years at Split Rock Creek State Park, and then 10 more at Camden State Park. She then earned her LPN degree from Minnesota West, Pipestone campus.
Sharon is glad she made the career change. She is currently an intern in the Marshall office of the MPCA and is exploring her new career options. "I'd like to be a health inspector I think, but I'm not going to be picky," she said.
Sharon and her husband Andy have four children: Zach, Kelsey, Cameron and Caden.
"Going back to school was easy from the sense I want to be here and put my heart into it, but it was hard, having a family, juggling everything. My family has been very supportive, and the professors at SMSU have been very helpful. I'm glad I did it."
A total of 223 SMSU students will participate in the 8th Annual Undergraduate Research Conference. A total of 17 academic areas are represented.