Identity Standards
The Purpose of Identity Standards
Visual Identity Standards, applied correctly and consistently, enable us to project a strong, effective identity for Southwest Minnesota State University and help to prevent confusion among our audiences. Using the University's official symbols correctly and consistently is an important part of the branding process, enhancing SMSU's image as a quality educational institution.
Every time someone from the SMSU communicates with the public, it contributes to our reputation. Public appearances, publications, letterhead, newsletters, t-shirts, displays, business cards, advertisements, media interviews, websites, flyers, signs and other forms of communication represent not just the individual or program, but the entire University.
The most basic yet comprehensive component of a strong institutional image is a unified visual presentation. Collectively, all elements of Southwest Minnesota State University must present to the world a consistent image that reflects our quality, professionalism and mission. This manual is a tool designed to help manage the University's identity.
Online Standards
We are in the process of moving our Identity Standards information to the website. Information will be continue to be added. We thank you for your patience. Please contact Communications and Marketing for any questions regarding any additions and amendments to the Standards Manual since the original publication in 2008 or for any uses not currently addressed.
Terminology
CMYK: This refers to the separation of color into Cyan, Magenta, Yellow and Black. This method of printing is done on a commercial press with any color being reproduced using its CMYK value.
Pantone Color: This is an industry standard color matching system to insure accurate color reproduction of Spot Colors.
Spot Color: This the type of printing done when only one color is used.
Identifying Logos and Marks of the University
Institutional Logo: This is the University's Primary Identification Mark

University Seal: This is reserved for use on official documents such as diplomas and by the discretion of the President's Office. Permission for use must be obtained in ALL cases. Contact the Communications and Marketing Office

Mascot Logos: Customization with a name is only permissible for SMSU Athletics and Sport Specific Teams. All uses should be approved. Apparel and promotion items must be produced by licensed vendor. Exemptions for custom use have been approved for the SMSU Alumni Association.

Legacy Mark (also referred to as the "Running Mustang"): This is a logo that is used across campus by many organizations. It carries with it many years of Mustang tradition and pride. It should be reproduced in an official school color only unless approved by the Communications and Marketing Office. Exceptions include the SMSU Veterans Club which uses a unique color application appropriate to their organization. The Running Mustang should always face right. Any exceptions to this rule must be approved by Communications and Marketing.
University Colors
In terms of consistency and identity, color plays a key role in building recognition. Use of the University's official colors, Brown (Pantone® 497), Gold (Pantone® 7503) are critical when reproducing the University logo. Black is the preferred alternative when budget or other issues prevent use of the official color scheme. Contact us if you're not sure what color to use and when to use it.
SMSU Brown
Spot color: Pantone® 497
CMYK: Four-color process formula 20/61/65/86
HEX #3A1807
SMSU Gold
Spot color: Pantone® 7503
CMYK: Four-color process formula 20/23/60/10
HEX #BCAA71
Recommended Fonts/Type Styles
The recommended type styles for SMSU's campus-wide marketing materials are listed below. These type styles possess a dignified, easy-to-read quality and their use is encouraged for body copy in brochures, newsletters, advertisements, and other communications. If you have a question about a font usage, please contact Communications and Marketing.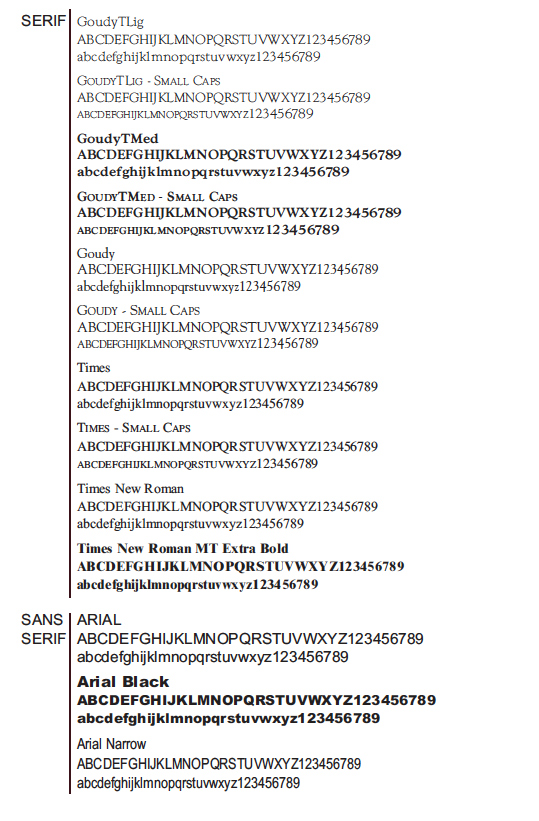 Logo Color Recommendations
The Institutional Logo is printed in Brown 497 and Metallic Gold 871 in formal applications, whenever possible (official business cards are one example.) When this type of printing is not an option, the following guides should be used: Black only for single color print jobs, Brown 497 when the entire print job is going to printed in a single brown color, or Full Color Brown and Gold separated in the CMYK values for full-color print jobs. The Communications and Marketing Office staff can help you with designing and printing using the correct logos for your project.
Proportions
The logo should not be distorted either vertically or horizontally. It should remain at the 100% proportions (equal 50% vertical/50% horizontal) at which it is provided by the Communications and Marketing Office. Please contact the Communications and Marketing Office for assistance in complying with these requirements. Any publication printed with a distorted logo will have to be reprinted at the expense of the inquiring department.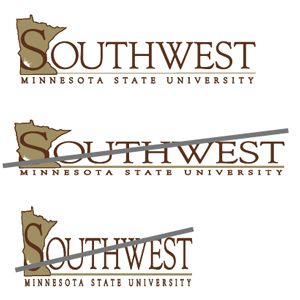 Control Area or Safe Space for a Logo
Any University logo should be placed with 'safe space' around it. The control area should be equal to 25% of the tallest part of the logo. No design element or background image should interfere with the integrity of the SMSU logos. For assistance or questions, contact Communications and Marketing.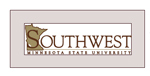 Unit-Specific Institutional Logos
Academic and Administrative Departments and Programs must use the Institutional Logo in their communications. The Southwest Minnesota State University name and reputation are strong, and as such, they are an asset to entities on campus, a fact that eliminates the need for individual unit specific logos. The overwhelming majority of entities on campus are represented visually by the Institutional logo, customized to the name of their individual entity as shown below. This unit-specific logo can serve as representation for individual campus entities on letterhead, merchandise, apparel, as well as printed and electronic communications. These entities include, but are not limited to:
Academic and Administrative offices and their respective departments and programs (i.e. those that report to the Office of the President, Provost, Vice Presidents, Deans, and Directors.)
A unit-specific version of the Institutional Logo may be created by request. Below is an example of one such unit-specific logo. It uses the Institutional Logo and adds the program/department/area name below it in an official font at an acceptable size and distance so as not to compete with the University name. Departments and program offices are not to create or use customized unit-specific logos for their individual campus entities. The official Institutional logos or the Unit-Specific Institutional logo should be the only logos to represent SMSU on all communications, printed or electronic.

Student Clubs and Organizations
Student Clubs and Organizations may use the University Logo in conjunction with their club logo in communications.
Student clubs and organizations recognized by SMSU and funded primarily by students may use only their club logos and wordmarks when communicating with an on-campus audience.
When communicating off campus, they should use the official SMSU logo in conjunction with their club logo and include SMSU in their organization's name. Example: SMSU International Student Organization.
SMSU Student Clubs and Organizations are permitted to use a unique logo to represent their group. It is recommended to include the SMSU name in the club logo, where applicable, and any newly-developed club logos should be submitted to Communications and Marketing for review and approval. 
What is Collegiate Trademark Licensing?
Among colleges and universities, countless third parties wish to associate themselves commercially with a school's tremendous prestige and spirit.
The University asserts ownership and all right, title, and interest in and to its logos, which includes trademarks, service marks, trade names, designs, logos, seals, symbols, mascots, slogans and any other logo that is associated with or refers to the University.
The purpose of the program at SMSU is to protect and monitor the use of its logos as well as verify the quality and appropriateness of products, promotions, and advertising upon which those logos are used. It also ensures that the University receives the appropriate commercial value to compensate for the use of its trademarked logos, name, and verbiage.
Please note that all SMSU language and logos are trademarked. All uses must be approved in advance and must meet licensing and trademark requirements. Contact Communications and Marketing Office staff with questions.