Minnesota Area Conducting Workshop
Choral & Instrumental Sessions
Southwest Minnesota State University
June 22 - 24, 2020
Note:  We continue to monitor developments in the COVID-19 pandemic.  We hope to be able to offer the workshop, but a decision will be made by the beginning of June.
Updated documents will be added in the spring.
2020 Final Informational Letter Participants  (coming in June, 2020)
**Offered Free of Charge to all Music Educators**

Application Deadline - May 30, 2020 
New for 2020: Graduate Seminar Credit now available.  
---
Purpose
All musicians know that learning to sing or play an instrument at an advanced level takes years of practice, assessment, and feedback.  This is no less true for conducting, but most university programs cannot offer more than two conducting classes for undergraduates. 

The purpose of the Minnesota Area Conducting Workshop is to provide Minnesota music educators with a forum in which they can practice their conducting skills, receive feedback from trained conductors, practice self-evaluation skills, discuss issues in music education, and network with other Minnesota music educators in a musical and supportive environment.
---
Choral Workshop Repertoire
To be announced in April
Instrumental Workshop Repertoire
2020 Repetoire 
Grade 1
     Midnight Mission  by Brian Balmages
     Imperium  by Michael Sweeney
     Simple Song  by Ralph Hultgren
Grade 2
     Creed  by William Himes
     Night Flight of the Gargoyles  by Timothy Loest
     Australian Up-Country Tune  by Percy Grainger
Grade 3
     Encanto  by Robert W. Smith
     Ginger Marmelade  by Warren Benson
     Good Night, Dear Heart  by Dan Forrest
Grade 4
     Chorale and Shaker Dance  by John Zdechlik
     O' Magnum Mysterium  by Morten Lauridsen/arr. Reynolds
---
Clinicians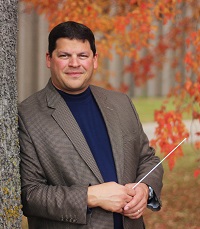 Dr. John Ginocchio
Professor of Music/Director of Bands
Southwest Minnesota State University
Dr .Stephen Kingsbury
Director of Choral Activities
Southwest Minnesota State University
Dr. John Herlihy
Director of Bands
University of Northwestern, St. Paul
Dr. Aaron Humble
Director of Choral Activities
Minnesota State University, Mankato
---
Contact Information
For more information on the Minnesota Area Conducting Workshop, contact:

Dr. John Ginocchio
(507) 537-7209
John.Ginocchio@smsu.edu
or
Dr. Stephen Kingsbury
(507) 537-7247
Stephen.Kingsbury@smsu.edu
Last Modified: 3/25/20 4:38 PM