SMSU Jazz Ensemble
**Follow us on Facebook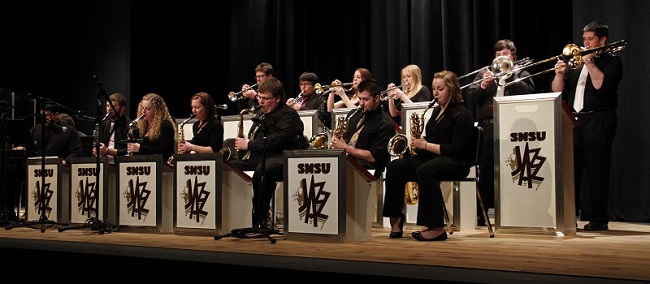 The SMSU Jazz Ensemble performs a variety of standard and new jazz works of all difficulty levels and styles.  Emphasis is placed on the authentic performance of this truly American style of music and enhancing technical and theoretical skills associated with playing this music.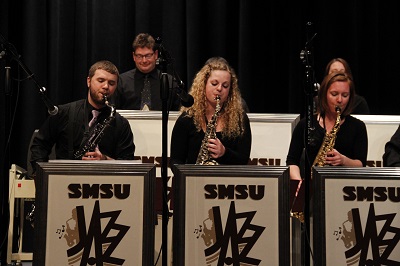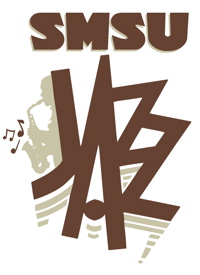 Participation in the Jazz Ensemble is open to all SMSU students.
As part of the SMSU Band's Guest Artist Series the Jazz Ensemble hosts and performs with guest jazz performers from around the country. Recent guest-clinicians have included:
Larry McWilliams, trumpet (2007); Dr. Michael Flack, piano (2008); Jim Snidero, alto saxophone (2009); Dennis Wilson, trombone (2010); Dr. Matthew Murdock, trumpet (2010); Rodney Whitaker, bass (2011); Michael Philip Mossman, trumpet (2012); Antonio Hart, alto saxophone (2013); Dr. Bill Prince, multi-instrumentalist (2014); Conrad Herwig, trombone (2015); Mike Clark, drum set (2016); Larry McWilliams, trumpet (2016); Rob Dixon, tenor saxophone (2017); Eduardo Tami, flute (2017); the Dakota Jazz Collective (2017); Denis DiBlasio, bari sax/flute (2019); Bill Huber, trombone (2020); Dr. Oliver Nelson, flute (2021); and Allison Miller. drum set (2022).
This year the Jazz Ensemble will host.
Tom "Bones" Malone, Trombone, Multi-instrumentalist and Arranger -- Jazz Residency -- March 26-28, 2023

Tom "Bones" Malone is among the most experienced professionals in the business.  

Tom is best known for his work with The Blues Brothers, David Letterman Show and Saturday Night Live.  

Tom has played on 4,400+ television shows, 3,000+ radio & television commercials, over 1,500 recordings and thousands of live performances throughout the world. Tom has done 2,700 arrangements for television.  

Tom has performed, recorded and/or arranged for: 

Ray Charles, 

James Brown, 

Stevie Wonder, 

Paul McCartney, 

Gil Evans, 

Yes, 

Miles Davis, 

Beck, 

Aretha Franklin, 

Spyro Gyra, 

Jimmy Cliff, and 

Frank Zappa, just to name a few.  Malone plays Bach trombones & trumpets, Selmer saxophones, Artley alto flute, King bass trombone,  and Selmer piccolo trumpet.  For more information on Malone and to view pictures and videos from his extensive career visit his website at tombonesmalone.net.
2022 - 23 Performance Schedule
November 5, 2022
SMSU University Gala Performance
For more information on the University Gala, see the SMSU Foundation website.


December 3, 2022
"A Very Prairie Christmas"
featuring the SMSU/Community Concert Band, Men's Glee Club,
Bella Voce, Chorale, and Jazz Ensemble
Schwan Community Center for the Performing Arts (at Marshall High School)
3:00 p.m.
**$5 admission charge, children under 5 years are free**
Weather back-up date:  December 5, 2021 @ 3:00 p.m.


December 5, 2022
"It's About Time"
7:30 p.m. in the SMSU Fine Arts Theatre
Free and open to the public
the program will feature classic works such as: 
Time After Time as performed by Ella Fitzgerald
Where Or When as performed by Frank Sinatra with the Count Basie Orchestra, and
I Hope in Time a Change Will Come by Oliver Nelson
As well as new works like:
Too Soon To Go by Mike Kamuf and
One and a Half O'Clock Jump by Howard Rowe


March 27, 2023
SMSU Jazz Ensemble with guest artist, Tom "Bones" Malone
with the Worthington High School Jazz Band
at Memorial Auditorium in Worthington, MN
7:00 p.m. 
Free and Open to the Public
AND
March 28, 2023
SMSU Jazz Ensemble with Tom "Bones" Malone
with the Marshall High School Jazz Bands
SMSU Fine Arts Theatre
7:30 p.m.
Free and Open to the Public


April 17, 2023
Spring Concert
featuring new works and several of our favorites from the year.
For more information about the SMSU Jazz Ensemble, or to book the Jazz Ensemble for a performance, contact Dr. John Ginocchio by email at John.Ginocchio@smsu.edu or by phone at (507) 537-7209.
"Put It in the Esky" by Roger Schmidli