SMSU Jazz Ensemble
**Follow us on Facebook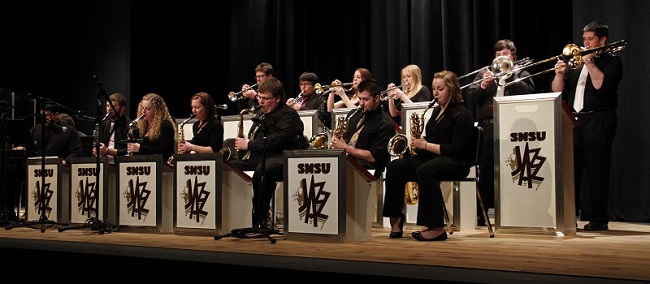 The SMSU Jazz Ensemble performs a variety of standard and new jazz works of all difficulty levels and styles.  Emphasis is placed on the authentic performance of this truly American style of music and enhancing technical and theoretical skills associated with playing this music.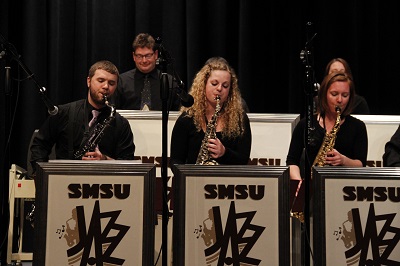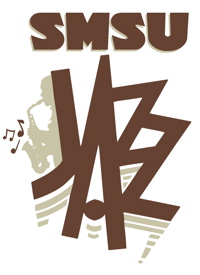 Participation in the Jazz Ensemble is open to all SMSU students.
As part of the SMSU Band's Guest Artist Series the Jazz Ensemble hosts and performs with guest jazz performers from around the country. Recent guest-clinicians have included:
Mr. Larry McWilliams, trumpet (2007); Dr. Michael Flack, piano (2008); Mr. Jim Snidero, alto saxophone (2009);
Mr. Dennis Wilson, trombone (2010); Dr. Matthew Murdock, trumpet (2010); Mr. Rodney Whitaker, bass (2011);
Mr. Michael Philip Mossman, trumpet (2012); Mr. Antonio Hart, alto saxophone (2013);
Dr. Bill Prince, multi-instrumentalist (2014); Mr. Conrad Herwig, trombone (2015); Mr. Mike Clark, drum set (2016);
Mr. Larry McWilliams, trumpet (2016); Mr. Rob Dixon, tenor saxophone (2017); Mr. Eduardo Tami, flute (2017);
Dakota Jazz Collective (2017); Mr. Denis DiBlasio, bari sax/flute (2019); Mr. Bill Huber, trombone (2020);
and Dr. Oliver Nelson, flute (2021). 
This year the Jazz Ensemble will host.
Allison Miller, Drums -- Jazz Residency -- March 27-29, 2022
NYC-based drummer/composer/teacher Allison Miller engages her deep roots in improvisation as a vehicle to explore all music. Described by critics as a "Modern Jazz Icon in the Making", Miller won Downbeat's 67th Annual Critics Poll for "Rising Star Drummer" and Jazz Times's 2019 Critics Poll for "Best Jazz Drummer." Boom Tic Boom, Allison's longtime band, won Jazz Journalists Association's 2019 award for "Best Mid-Sized Ensemble." Her composition, "Otis Was a Polar Bear", is included on NPR's list of The 200 Greatest Songs by 21st Century Women+. She is also the first recipient of the Mid Atlantic Arts Foundation's Commissioning Grant. Miller, a three time Jazz Ambassador for the U.S. State Department, was Monterey Jazz Festival's 2019 Artist in Residence, alongside bassist/producer Derrick Hodge. Simultaneously her band, Boom Tic Boom, celebrated its 10th anniversary with the release of their 5th album, Glitter Wolf, which was included in many "Best Jazz Of 2019" lists, including NPR, Rolling Stone and Jazz Times magazine. While breaking from leading Boom Tic Boom, Miller focuses on collaborations, co-directing Parlour Game with Jenny Scheinman and Science Fair with Carmen Staaf. Both bands debut albums made "Best Jazz Of 2018 and 2019" lists, including LA Times, New York Times, Boston Globe, and The Nation. Parlour Game was recently featured on NPR's Weekend Edition. Miller is also a proud member of the critically acclaimed Bluenote recording supergroup Artemis.  As a side-musician, Miller has been the rhythmic force behind such artists as Sara Bareilles, Ani DiFranco, Natalie Merchant, Brandi Carlile, Indigo Girls, Toshi Reagon, Dr. Lonnie Smith, Patricia Barber, Marty Ehrlich, Ben Allison, and Late Night with Seth Meyers. She has been appointed Arts Envoy to Thailand for her work with Jazz Education Abroad and endorses Yamaha drums, Zildjian cymbals, Vic Firth sticks, Evans drumheads and Sunhouse percussion.
2021 - 22 Performance Schedule
December 4, 2021
"A Very Prairie Christmas"
featuring the SMSU/Community Concert Band, Men's Glee Club,
Bella Voce, Chorale, and Jazz Ensemble
Schwan Community Center for the Performing Arts (at Marshall High School)
3:00 p.m.
**$5 admission charge, children under 5 years are free**
Weather back-up date:  December 5, 2021 @ 3:00 p.m.
December 6, 2021
"Play Like a Girl:  A Celebration of Women Composers"
7:30 p.m. in the SMSU Fine Arts Theatre
Free and open to the public
the program will feature works by contemporary and historical female composers including:
Struttin' with Some Barbecue by Lil Hardin Armstrong
Willow Weep for Me by Ann Ronell 
Soul Proprietor by Ellen Rowe
Lazy Day by Toshiko Akiyoshi
and many others.
March 28, 2022
SMSU Jazz Ensemble with guest drummer, Allison Miller
with the Montevideo High School Jazz Band
Montevideo High School
7:00 p.m. 
Free and Open to the Public
March 29, 2022
SMSU Jazz Ensemble with guest drummer, Allison Miller
with the Marshall High School Jazz Bands
SMSU Fine Arts Theatre
7:30 p.m.
Free and Open to the Public
April 18, 2022
Spring Concert
featuring new works and several of our favorites from the year.
For more information about the SMSU Jazz Ensemble, or to book the Jazz Ensemble for a performance, contact Dr. John Ginocchio by email at John.Ginocchio@smsu.edu or by phone at (507) 537-7209.
"Put It in the Esky" by Roger Schmidli