**Follow us on Facebook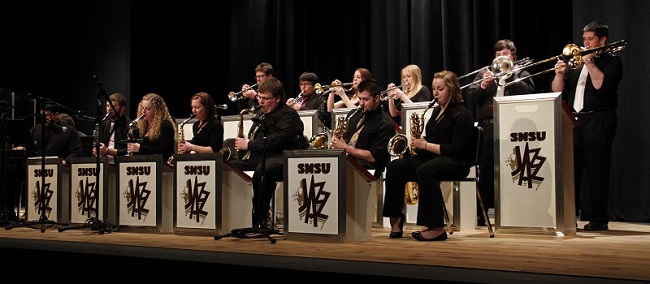 The SMSU Jazz Ensemble performs a variety of standard and new jazz works of all difficulty levels and styles.  Emphasis is placed on the authentic performance of this truly American style of music and enhancing technical and theoretical skills associated with playing this music. 
 
Participation in the Jazz Ensemble is open to all SMSU students.

As part of the SMSU Band's Guest Artist Series the Jazz Ensemble hosts and performs with guest jazz performers from around the country. Recent guest-clinicians have included:
Mr. Larry McWilliams, trumpet (2007); Dr. Michael Flack, piano (2008); Mr. Jim Snidero, alto saxophone (2009);
Mr. Dennis Wilson, trombone (2010); Dr. Matthew Murdock, trumpet (2010); Mr. Rodney Whitaker, bass (2011);
Mr. Michael Philip Mossman, trumpet (2012); Mr. Antonio Hart, alto saxophone (2013);
Dr. Bill Prince, multi-instrumentalist (2014); Mr. Conrad Herwig, trombone (2015); Mr. Mike Clark, drum set (2016);
Mr. Larry McWilliams, trumpet (2016); Mr. Rob Dixon, tenor saxophone (2017); Mr. Eduardo Tami, flute (2017);
Dakota Jazz Collective (2017); and Mr. Denis DiBlasio, bari sax/flute (2019)
This year the Jazz Ensemble is pleased to host Mr. William Huber as our guest artist.
Bill Huber is a free-lance trombonist, teacher, and writer in Nashville, TN. He is the only trombonist ever to record with James Brown, play on the Grand Ole Opry, and perform The Rite of Spring! Among his other credits are recordings with Bob Seegar, Toby Keith, Delbert McClinton (Grammy nominated), The Nashville Jazz Orchestra, The Knoxville Jazz Orchestra, The Modern Jazz Tuba Project, John Oates, etc. His performance credits include Aretha Franklin, Diana Ross, Natalie Cole, Michael Feinstein, The Muscle Shoals All Stars, Little Richard, Manhattan Transfer, Henry Mancini, The Bowling Green Chamber Orchestra, The Nashville Symphony Orchestra, and others. He has served as Artist in Residence at Blair School of Music, and has been a featured performer and/or clinician for the Knoxville Jazz Youth Orchestra, the International Trombone Festival, the University of Tennessee, The W.C. Handy Music Festival, the International Tuba & Euphonium Conference, Governor's School, etc. He is adjunct instructor of Trombone and Euphonium at Trevecca Nazarene University and Cumberland University. Whether performing, teaching, or writing, Bill enjoys most sharing his love of music with those who love music, too. 
2019 - 20 Performance Schedule

**Unless noted, all performances are Free and Open to the Public**

October 11, 2019
University Gala (Social Hour performance)
approximately 6:00 p.m.
RA Facility
(contact the SMSU Foundation for ticket information)


October 24, 2019
Fall Concert with the SMSU/Community Concert Band
7:30 p.m. in the Fine Arts Theatre
"De-Composition: Reimaging the Works of Dead Composers"
the program will feature varying interpretations of classics of the repertoire including:
   Blackbird by Lennon & McCartney/arr. by Mike Tomaro;
I've Grown Accustomed to Her Face from "My Fair Lady"/arr. by Scott Ragsdale;
Bolero by Ravel, but as performed by Benny Goodman; 
and many other works.

December 7, 2019
 "A Very Prairie Chrismas", Music Program Holiday Concert
Schwan Community Center for the Performing Arts
3:00 p.m.
Weather contingency:  December 8th at 3:00 p.m.

December 12-15, 2019
in collaboration with the SMSU Theatre Department
1940's Radio Hour
a play with music by Walton Jones
in the SMSU Fine Arts Theatre

February 24 & 25, 2020
Symphonic Chamber Winds/SMSU Jazz Ensemble Tour
I-90 Corridor
performing at:
Martin County West High School (2:00 p.m., Feb. 24, Sherburn, MN)
Alden-Conger School (9:00 a.m., Feb. 25, Alden, MN)
Heron Lake-Okabena School (2:15 p.m., Feb. 25, Okabena, MN)

***Due to concerns related to COVID-19, all remaining concerts have been cancelled.***
March 23 & 24, 2020
Concerts with guest artist, William Huber
March 23rd @ 7:30 p.m. in the SMSU Fine Arts Theatre
March 24th @ 7:30 p.m. at Springfield High School

March 30, 2020
Opening Reception for the students from
Udon Thani Rhajabhat University

April 6, 2020
"All-City Jazz Festival"

April 20, 2020
Spring Concert



For more information about the SMSU Jazz Ensemble, or to book the Jazz Ensemble for a performance, contact Dr. John Ginocchio by email at John.Ginocchio@smsu.edu or by phone at (507) 537-7209.
"Put It in the Esky" by Roger Schmidli
Last Modified: 3/25/20 4:13 PM