**Follow us on Facebook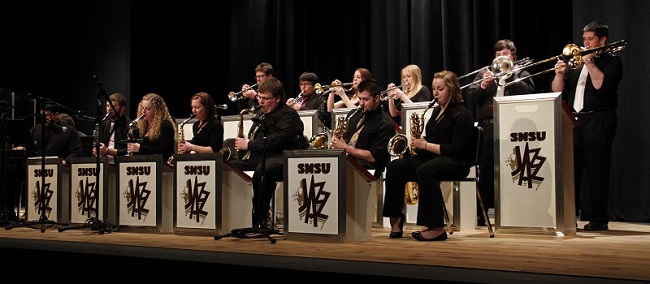 The SMSU Jazz Ensemble performs a variety of standard and new jazz works of all difficulty levels and styles.  Emphasis is placed on the authentic performance of this truly American style of music and enhancing technical and theoretical skills associated with playing this music. 
 
Participation in the Jazz Ensemble is open to all SMSU students.

As part of the SMSU Band's Guest Artist Series the Jazz Ensemble hosts and performs with guest jazz performers from around the country. Recent guest-clinicians have included:
Mr. Larry McWilliams, trumpet (2007); Dr. Michael Flack, piano (2008); Mr. Jim Snidero, alto saxophone (2009);
Mr. Dennis Wilson, trombone (2010); Dr. Matthew Murdock, trumpet (2010); Mr. Rodney Whitaker, bass (2011);
Mr. Michael Philip Mossman, trumpet (2012); Mr. Antonio Hart, alto saxophone (2013);
Dr. Bill Prince, multi-instrumentalist (2014); Mr. Conrad Herwig, trombone (2015); Mr. Mike Clark, drum set (2016);
Mr. Larry McWilliams, trumpet (2016); Mr. Rob Dixon, tenor saxophone (2017); Mr. Eduardo Tami, flute (2017);
and Dakota Jazz Collective (2017)
This year the Jazz Ensemble is pleased to host Denis DiBlasio as our guest artist.
International clinician and performer, Denis DiBlasio, is a baritone saxophonists, flautist, educator, composer, and arranger.   DiBlasio previously played with Maynard Ferguson for many years and currently serves as the Executive Director of The Maynard Ferguson Institute of Jazz and is the Director of Jazz and Composition at Rowan University in Glassboro, New Jersey.  He travels the world performing and running personalized clinics with people of all ages.  His inspirational connection with young musicians is what makes a DiBlasio clinic so special.
Denis endorses flutes and saxophones by Yamaha along with Vandoren mouthpieces and reeds.

**Unless noted, all performances are Free and Open to the Public**

October 5, 2018
University Gala (Social Hour performance)
approximately 6:00 p.m.
RA Facility
(contact the SMSU Foundation for ticket information)

December 1, 2018
 "A Very Prairie Chrismas", Music Program Holiday Concert
Schwan Community Center for the Performing Arts
7:30 p.m.

December 10, 2018
Fall Concert
7:30 p.m. in the Fine Arts Theatre
"Celestial Music"
the program will feature music that is simply "out of this world" including:
   Sun Valley Jump as performed by the Glenn Miller Orchestra;
Uranus by Don Sickler; Fly Me to the Moon; Nebula; and
many other works.

March 25 & 26, 2019
Concerts with guest artist, Denis DiBlasio

April 1, 2019
"All-City Jazz Festival"
featuring jazz bands from the Marshall Public Schools and SMSU
7:00 p.m. in the Schwan Community Center for the Performing Arts

April 22, 2018
Spring Concert
7:30 p.m. in the Fine Arts Theatre
featuring a variety of works from the semester and year including:
Jackson Square by Denis DiBlasio; Hidden Agenda by Doug Beach; Centerpiece by John Hendricks
What Is This Thing Called Love by Cole Porter; Europa by Carlos Santana; and many others


For more information about the SMSU Jazz Ensemble,  or to book the Jazz Ensemble for a performance, contact Dr. John Ginocchio by email at John.Ginocchio@smsu.edu or by phone at (507) 537-7209.
           
Last Modified: 4/16/19 9:03 AM