SMSU Jazz Ensemble
**Follow us on  Facebook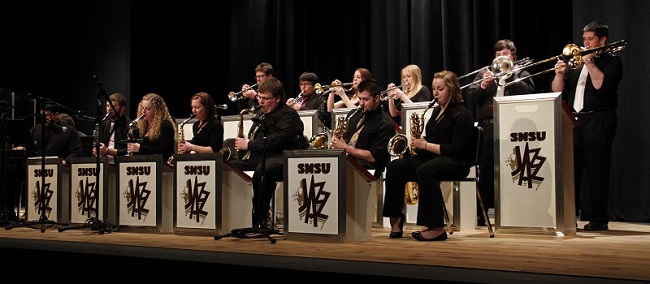 The SMSU Jazz Ensemble performs a variety of standard and new jazz works of all difficulty levels and styles.  Emphasis is placed on the authentic performance of this truly American style of music and enhancing technical and theoretical skills associated with playing this music.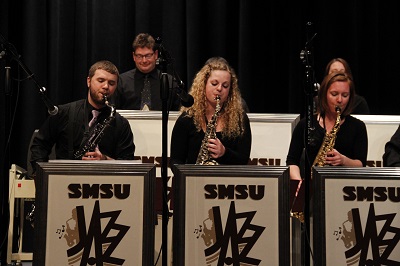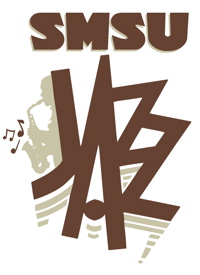 Participation in the Jazz Ensemble is open to all SMSU students.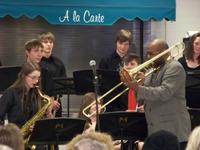 As part of the SMSU Band's Guest Artist Series the Jazz Ensemble hosts and performs with guest jazz performers from around the country. Recent guest-clinicians have included:
Larry McWilliams, trumpet (2007); Dr. Michael Flack, piano (2008); Jim Snidero, alto saxophone (2009); Dennis Wilson, trombone (2010); Dr. Matthew Murdock, trumpet (2010); Rodney Whitaker, bass (2011); Michael Philip Mossman, trumpet (2012); Antonio Hart, alto saxophone (2013); Dr. Bill Prince, multi-instrumentalist (2014);  Conrad Herwig, trombone (2015); Mike Clark, drum set (2016); Larry McWilliams, trumpet (2016); Rob Dixon, tenor saxophone (2017); Eduardo Tami, flute (2017); the Dakota Jazz Collective (2017); Denis DiBlasio, bari sax/flute (2019); Bill Huber, trombone (2020); Dr. Oliver Nelson, flute (2021); Allison Miller, drum set (2022); and Tom "Bones" Malone, trombone (2023).
This year the Jazz Ensemble will host.
Tom Scott, Saxophone -- Jazz Residency -- March 24-26, 2024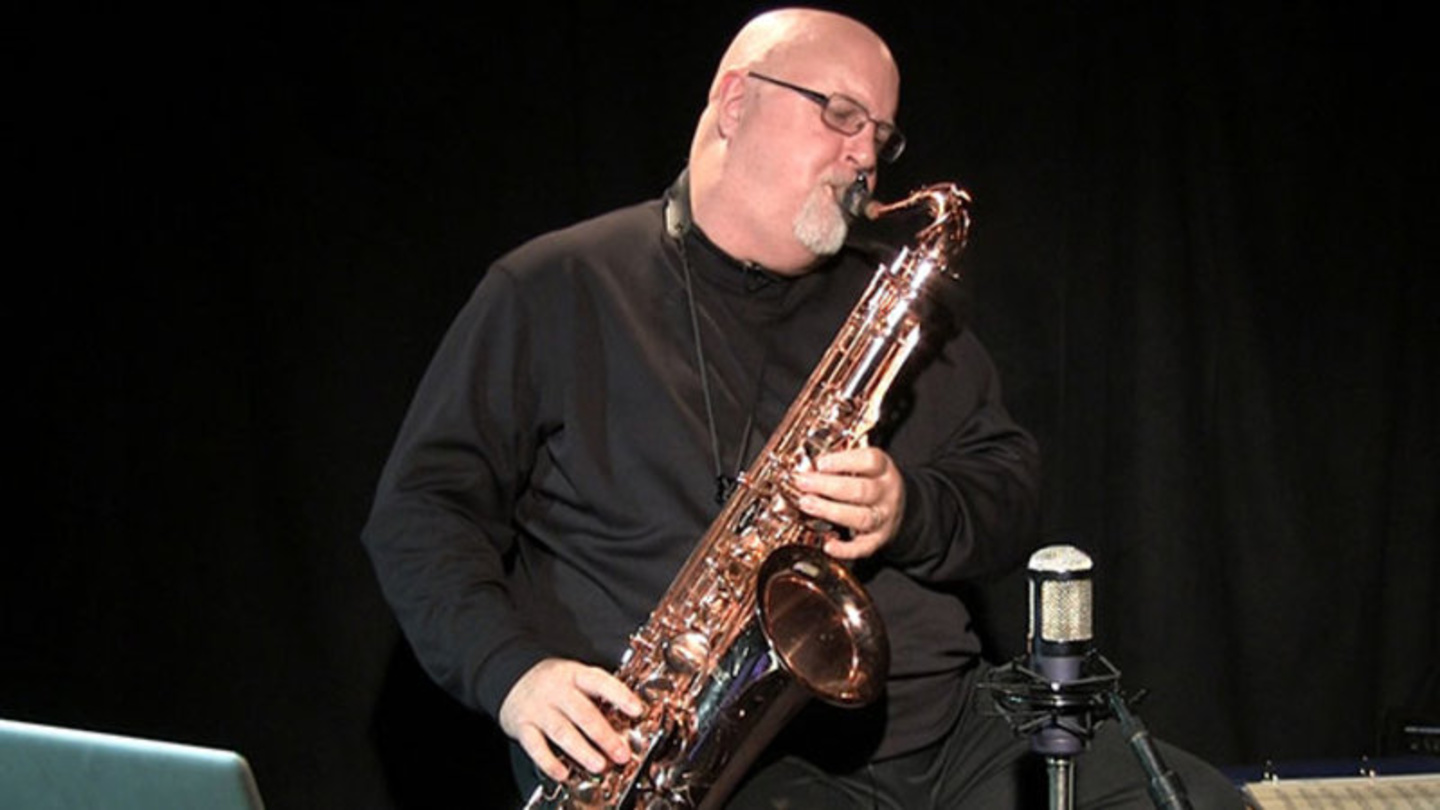 Tom Scott is a renowned composer, arranger, producer, music director, saxophonist and educator.  His 33 solo recordings have earned him 13 Grammy nominations and 3 Grammy awards.  In 2013 he produced a CD for young ukulele master Brittni Paiva which won a Hawaiian Grammy for 'Ukulele Album of the Year', and in 2017 received his first Emmy Award nomination for Musical Direction of the Tony Bennett 90th Birthday TV Special on NBC.
Tom's career as a guest artist spans more than 2000 recordings—by such diverse artists as Barbra Streisand, Quincy Jones, Thelonious Monk, the Blues Brothers, Frank Sinatra, Aretha Franklin and Aerosmith.  His numerous contributions as a player and arranger include Joni Mitchell's Court and Spark and Miles of Aisles, Steely Dan's Aja and Gaucho; hit singles like Carole King's "Jazzman," Paul McCartney's "Listen to What the Man Said," Rod Stewart's "Do You Think I'm Sexy," Blondie's "Rapture,' Toto's "Rosanna," Whitney Houston's "Saving All My Love for You" and on countless movie soundtracks such as Taxi Driver, The Jerk, Three Days of the Condor, Heaven Can Wait, Sea of Love, Who Framed Roger Rabbit?, Toy Story 2, Monsters Inc. and the latest release of A Star Is Born.
Other achievements include composing film scores, among them Conquest of the Planet of the Apes, Uptown Saturday Night, Stir Crazy, Hanky Panky, The Sure Thing, Soul Man and Shakes the Clown.  His television composing and conducting credits include the themes for Family Ties and Starsky & Hutch, background scores for Baretta, Cannon, Barnaby Jones, Streets Of San Francisco, numerous T.V. Movies and Specials.  He has served as Musical Director for the Academy Awards, the Emmy Awards (9 times), the People's Choice Awards, Comic Relief, the Carol Burnett Show, the Pat Sajak Show, Joni Mitchell, George Harrison, Olivia Newton-John, and the GRP All-Star Big Band, among others—and composed the score for the recent  HBO documentary The Bronx, U.S.A.  He teaches Master Classes in Woodwinds, Arranging & Film Composing, and is currently on the faculty of the New York University Summer Jazz program.
Learn more at Tom Scott's website.
2023 - 24 Performance Schedule
September 30, 2023
SMSU University Gala Performance
For more information on the University Gala, see the SMSU Foundation website.
December 2, 2023
"A Very Prairie Christmas"
featuring the SMSU/Community Concert Band, Men's Glee Club,
Bella Voce, Chorale, and Jazz Ensemble
Schwan Community Center for the Performing Arts (at Marshall High School)
3:00 p.m.
**$5 admission charge, children under 5 years are free**
Weather back-up date:  December 3, 2023 @ 3:00 p.m.
December 4, 2023
"Music that Moves You"
7:30 p.m. in the SMSU Fine Arts Theatre
Free and open to the public
the program will feature classic works such as: 
Walk, Don't Run as recorded by the Count Basie Orchestra,
Leap Frog as performed by Les Brown and his Orchestra, 
Blue Train by John Coltrane,
Sidewinder by Lee Morgan,
and lots more
March 25, 2024
SMSU Jazz Ensemble with guest artist, Tom Scott
with the Redwood Valley High School Jazz Band
at the Estebo Performing Arts Center in Redwood Falls, MN
7:30 p.m. 
Free and Open to the Public
AND
March 26, 2024
SMSU Jazz Ensemble with Tom Scott
with the Marshall High School and Lakeview High School Jazz Bands
SMSU Fine Arts Theatre
7:30 p.m.
Free and Open to the Public
April 8, 2024
All-City Jazz Festival
with other jazz bands from the schools in Marshall
Schwan Community Center for the Performing Arts
7:00 p.m.
April 15, 2024
Spring Concert
featuring new works and several of our favorites from the year.
For more information about the SMSU Jazz Ensemble, or to book the Jazz Ensemble for a performance, contact Dr. John Ginocchio by email at John.Ginocchio@smsu.edu or by phone at (507) 537-7209.