**Follow us on Facebook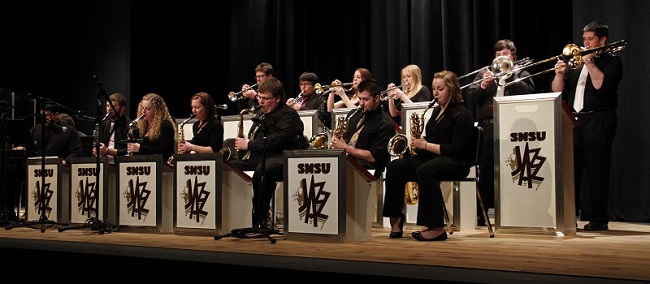 The SMSU Jazz Ensemble performs a variety of standard and new jazz works of all difficulty levels and styles.  Emphasis is placed on the authentic performance of this truly American style of music and enhancing technical and theoretical skills associated with playing this music. 
 
Participation in the Jazz Ensemble is open to all SMSU students.

As part of the SMSU Band's Guest Artist Series the Jazz Ensemble hosts and performs with guest jazz performers from around the country. Recent guest-clinicians have included:
Mr. Larry McWilliams, trumpet (2007); Dr. Michael Flack, piano (2008); Mr. Jim Snidero, alto saxophone (2009);
Mr. Dennis Wilson, trombone (2010); Dr. Matthew Murdock, trumpet (2010); Mr. Rodney Whitaker, bass (2011);
Mr. Michael Philip Mossman, trumpet (2012); Mr. Antonio Hart, alto saxophone (2013);
Dr. Bill Prince, multi-instrumentalist (2014); Mr. Conrad Herwig, trombone (2015); Mr. Mike Clark, drum set (2016);
Mr. Larry McWilliams, trumpet (2016); Mr. Rob Dixon, tenor saxophone (2017); Mr. Eduardo Tami, flute (2017);
Dakota Jazz Collective (2017); and Mr. Denis DiBlasio, bari sax/flute (2019)
This year the Jazz Ensemble plans to host two guests.
Bill Huber, Trombone -- Jazz Residency -- November 18-21, 2020
Bill Huber is a free-lance trombonist, teacher, and writer in Nashville, TN. He is the only trombonist ever to record with James Brown, play on the Grand Ole Opry, and perform The Rite of Spring! Among his other credits are recordings with Bob Seegar, Toby Keith, Delbert McClinton (Grammy nominated), The Nashville Jazz Orchestra, The Knoxville Jazz Orchestra, The Modern Jazz Tuba Project, John Oates, etc. His performance credits include Aretha Franklin, Diana Ross, Natalie Cole, Michael Feinstein, The Muscle Shoals All Stars, Little Richard, Manhattan Transfer, Henry Mancini, The Bowling Green Chamber Orchestra, The Nashville Symphony Orchestra, and others. He has served as Artist in Residence at Blair School of Music, and has been a featured performer and/or clinician for the Knoxville Jazz Youth Orchestra, the International Trombone Festival, the University of Tennessee, The W.C. Handy Music Festival, the International Tuba & Euphonium Conference, Governor's School, etc. He is adjunct instructor of Trombone and Euphonium at Trevecca Nazarene University and Cumberland University. Whether performing, teaching, or writing, Bill enjoys most sharing his love of music with those who love music, too. 

Oliver Nelson Jr., Flute -- Jazz Residency -- March 21-24, 2021
Oliver Nelson, a jazz and classical flutist, teacher, and lecturer, is enjoying a successful career, playing in significant venues with a who's who in jazz legends.  A fourth generation musician and the son of an internationally acclaimed composer, arranger, and jazz saxophonist, he is upholding the family tradition of excellence in the highly competitive field of modern jazz performance.  Recently, Nelson performed with New York Metropolitan soprano Angela Brown on her 2006 PBS presentation, A Holiday Homecoming with Angela Brown. In 2009, 2010, and 2011 he participated as a conductor and featured performer at the Savannah Jazz Festival, playing some of his father's compositions, assisted by organist Doug Carn. He also participates frequently in other jazz–related events. In September of this year he performed in the Allerton Music Barn Festival in Illinois, where a tribute program for his father was given by the University of Illinois jazz faculty.  Nelson frequently performs with his jazz quartet and woodwind trio and in the Combrio Duo with Donna Clark, a viola performer. He has conducted numerous workshops and clinics and performs often in jazz ensembles.


2020 - 21 Performance Schedule

**Due to the coronavirus pandemic, concerts will performed without an audience.**
The SMSU Music Program will release compilation performances from all program performances for broadcast and inclusion on the Southwest Minnesota State University YouTube page.  Watch for more details.

November 19, 2020
An evening with Guest Artist, Bill Huber
AND
A Taste of Spring:  The Music of Oliver Nelson
SMSU Fine Arts Theatre
the program will feature several works with Bill Huber including:
Perdido by Juan Tizol and
Ballad for Bill by Calvin Huber 
as well as works by the father of our spring guest, Oliver Nelson such as: 
Hobo Flats, Jada, Yearnin', and others

March 22, 2021
Recording Session with guest artist, Oliver Nelson Jr.
Featuring works by his father including:
Self-Help Is Needed
Emancipation Blues
Stolen Moments
Miss Fine

April 19, 2021
Recording Session with pieces for Big Band and Jazz Combo
Falling Water by Ryan Fraley
Morocco by Russ Freeman
Dream a Little Dream of Me by Fabian Andre and Wilber Schwandt
All of Me by Gerald Marks and Seymour Simons
and others.


For more information about the SMSU Jazz Ensemble, or to book the Jazz Ensemble for a performance, contact Dr. John Ginocchio by email at John.Ginocchio@smsu.edu or by phone at (507) 537-7209.
"Put It in the Esky" by Roger Schmidli
Last Modified: 2/25/21 3:59 PM