SMSU Symphonic Chamber Winds
**Follow us on Facebook
The Symphonic Chamber Winds is SMSU's premiere concert ensemble for winds and percussion.  Auditioned members include music majors as well as outstanding musicians from degree programs throughout the University.  The Symphonic Chamber Winds play the highest quality literature for chamber ensembles in a variety of styles and difficulty levels.  Recently performed repertoire includes Symphony No. 1 by Beethoven (harmoniemusik by Schmitt); Wind Octet in F Major by Schubert; The Magic Flute by Mozart (harmoniemusik by Heidenreich); and Troisieme Humoresque by Gilson.
**Auditions for the Symphonic Chamber Winds for 2021 will take place during the week of November 9, 2020.  Audition materials will be available at the office of the Director of Bands (FA 124) starting on October 26th.
Due to continuing concerts with the COVID-19 pandemic, concerts will be replaced with recording sessions with broadcasts made available on YouTube at a later date.
March 1, 2021 
Strange Humors by John Mackey
Heroes of the Forest by Shuhei Tamura
Frauenherz Polka, Opus 166 by Josef Strauss 
April 26, 2021
Living Room Music by John Cage
Carousel by Jean-Baptiste Lully
Lichtweg by Jennifer Jolley
Divertimento for Ten Winds  by Robert Nagel
 
The Symphonic Chamber Winds along with the SMSU/Community Concert Band encourages the development of new wind band literature through commissioning efforts.  Recent participation in commissioning consortia have resulted in the writing of KRUMP by Scott McAllister, Three Moods for Band by Stephen Paulus, Star Crossed by Andrew Boyson, and Temperance by Aaron Perrine.
The bands at SMSU travel regularly.   Destinations have included:  Spain (2016); Beijing & Shanghai, China (2008); London, England (2006); the Caribbean (2004); Washington D.C. (2001); and Australian (2000).   
 
Symphonic Chamber Winds rehearsal takes place from 3:00-4:20 pm every Monday, Wednesday, and Friday during the Spring Semester.  For more information about the SMSU Symphonic Chamber Winds, contact Dr. John Ginocchio, (507) 537-7209.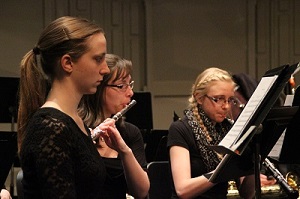 "Wind Octet" by Franz Schubert
"Symphony No. 1" by Ludwig von Beethoven
Last Modified: 2/25/21 4:08 PM