Southwest Minnesota Orchestra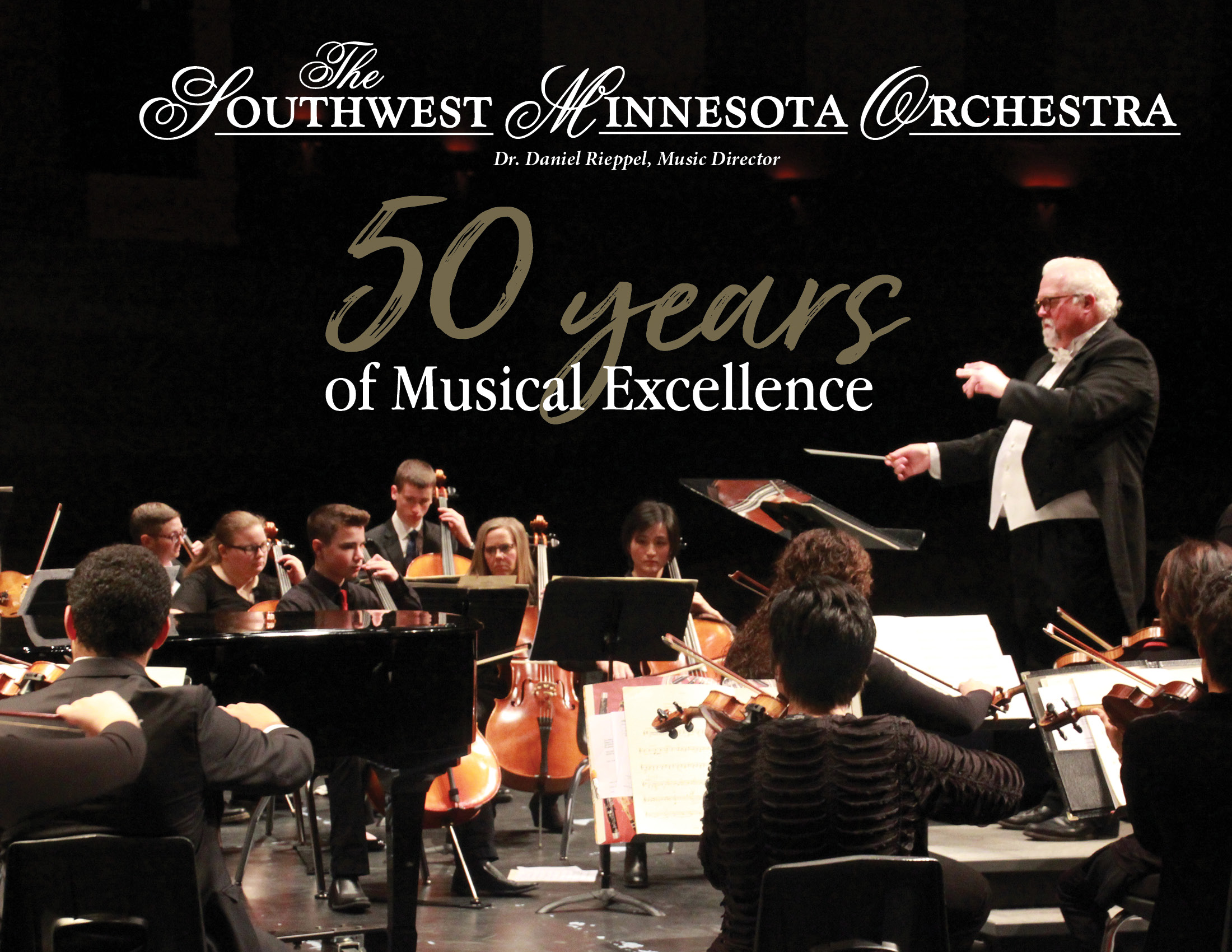 Southwest Minnesota Orchestra's 50th Anniversary Season
50th Anniversary & Beethoven Festival Dates:
October 17, 2021  Featuring guest pianist, Dr. David Viscoli
   4:00 p.m. at the Schwan Community Center for the Performing Arts (SCCPA) at Marshall High School
November 14, 2021  Featuring guest artists, Mark Doss (Voice) and Reed Tetzloff (Piano)
   4:00 p.m. in the SMSU Fine Arts Theatre
February 27, 2022  Featuring guest pianist, Luke Norell
   4:00 p.m. at the SCCPA
May 1, 2022
   4:00 p.m., Location TBA
Other Performances of the SMO
December 1, 2021  "Holiday Cheer!"
   7:00 p.m. at the Holy Redeemer Church
April 5, 2022  Annual "Children's Concert" for area school children
   10:00 a.m. AND 1:00 p.m. at the SCCPA
In celebration of the 250th Anniversary of Beethoven's birth AND the 50th Anniversary of the Southwest Minnesota Orchestra, The Friends of the Orchestra announces the Beethoven/SMO 2/50 Project. For every personal donation of $250-499 (advocate level) or higher, the donor will receive a pair of tickets for ALL FIVE of the Beethoven Festival concerts. This level will be our Legacy Level for the duration of our 50th anniversary season—donations of any amount are also greatly appreciated!
A History of the Southwest Minnesota Orchestra
The Southwest Minnesota Orchestra (SMO) has been in existence for 50 years, just a year and half younger than SMSU itself. Our mission has always been to provide the people of southwest Minnesota an opportunity to hear and enjoy a wide variety of live symphonic music. Dr. Daniel Rieppel has been musical director of SMO for 21 years. The SMO is a regional ensemble made up of area community members, area high school students, and SMSU students and faculty. As one of the most prominent cultural organizations in rural Minnesota—commissioning new music from composers, educating young people about the glories of classical art music, reaching out to Minnesota's diverse population and including people from all walks of life and generations—SMO is a unique asset to our region and state.

SMO performs four to six concerts each season: Fall, Christmas (Holiday Cheer), Winter and Spring, with our Youth Concert bringing in 1500 school children each year. SMO also hosts each year a String Academy for talented violinists, violists and cellists in jr. and sr. high school that draws from three states. Our endowed principal chairs of the string section are funded by families in our area that want a lively orchestral tradition to continue in southwestern Minnesota. They include the Logan Family Chair (Concertmaster), the Jean Replinger Chair (Principal 2nd Violin), and the Brian and Kris Gruhot Chair (Principal Cello).
The Friends of the Orchestra (FOTO) is a volunteer, non-profit group and the fiscal agent for the SMO. FOTO works with Dr. Rieppel to raise funds, plan events, and execute the 1001 details that are a part of each concert. Executive Officers are Ms. Kris Gruhot, President; Ms. Melanie Lee, Secretary; and Beth Steuck, Treasurer. The orchestra board includes the executive officers, Dr. Rieppel, and orchestra and community members. If you are interested in being a part of Friends of the Orchestra, contact Dr. Rieppel at Daniel.Rieppel@smsu.edu. For information on Southwest Minnesota Orchestra, contact the Fine Arts Office at Southwest Minnesota State University, (507) 537-7103.
The SMO rehearses in room 135 of the Fine Arts building on the SMSU campus on Tuesday nights from 7:00-9:30 p.m. If you are interested in being a part of the orchestra, contact Dr. Rieppel at Daniel.Rieppel@smsu.edu.  
Friends of the Orchestra and the SMO do not discriminate in providing reasonable accommodations in regard to special requests for blind and low vision, deaf and hard of hearing, and/or mobility needs of audience members.
ADA Act/Section 504: Individuals with a disability who need a reasonable accommodation to participate should call the SMSU Fine Arts office at 507-537-7103, the Communications and Marketing office at 1-800-642-0684, or through the Minnesota Relay service at 1-800-627-3529. Please call at least 7 days in advance of the performance.