A Festival of Woodwinds
The Music Program will host "Brass-a-palooza" in February, 2023.  See that page for more information
"The Festival of Woodwinds" will return in February, 2024, but for more information about the event, feel free to examine the information from last year's event.


February 5, 2022
SMSU Fine Arts Building
The Festival of Woodwinds is a day-long workshop for woodwind players featuring guest artist, Beverly Gibson.  The day will include woodwind choir rehearsals, a guest recital, a guest masterclass, and a Finale Concert.  The event is open to any and all woodwind players regardless of age or ability level.  It is also open to directors and other musicians interested in woodwind performance.
Registrations will be accepted beginning on January 6, 2022 with the following fee structure:
        Early registration (by January 21, 2022)--$30 per person  (includes lunch)
        Normal registration (after January 21)--$40 per person  (includes lunch)
                **Directors bringing 5 students or more can receive a discounted rate.  Contact Dr. John Ginocchio.
Application Materials:  download application
Schedule for the day:
        8:30-9:00 a.m.       Registration/Check-in
        9:00-9:30               Warm-ups
        9:30-10:45             Woodwind Choir rehearsal
        11:00-12:00           Guest clinician recital 
        12:00-1:00             Lunch (provided)
        1:00-2:30               Workshop session/Masterclass  (Alexander Technique/masterclass)
        2:45-4:30               Woodwind Choir rehearsal
        5:00                       Finale concert
Guest Artist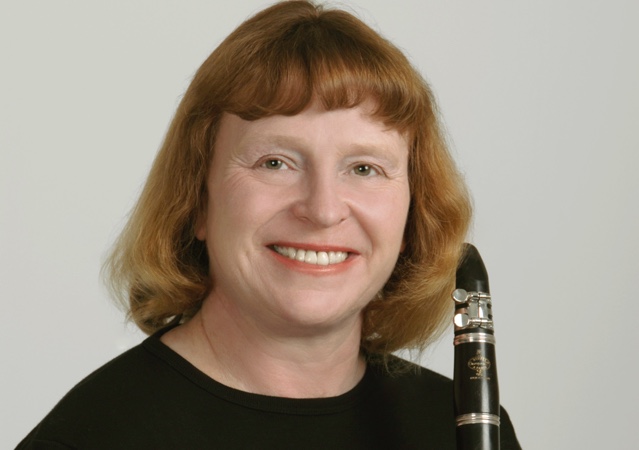 Dr. Beverly Gibson is a clarinet professor at Northwestern College, Orange City, IA and Dordt College, Sioux Center, IA as well as a chamber music instructor for the Dakota Academy of Performing Art at the Washington Pavilion in Sioux Falls, SD. She is currently the Bass clarinetist/Eb clarinetist with the South Dakota Symphony Orchestra and Principal clarinetist with the Northwest Iowa Symphony Orchestra. She is an artist/clinician for the Buffet Crampon Corporation representing Buffet clarinets. Dr. Gibson was recently featured on French Canadian vocalist, Michel Chartier's album recorded in Kent, England.
She received her Bachelor of Music Education degree from the State University of New York at Fredonia, a Master's degree in Woodwind Performance from the University of North Texas and a Doctor of Musical Arts degree from Louisiana State University.
Music faculty positions have included positions at McNeese State University, University of Central Arkansas, University of North Texas, Louisiana State University and Augustana College. Additionally she has served as bass clarinetist/Eb clarinetist with the Baton Rouge Symphony, Principal clarinetist with the Lake Charles and Rapides Symphony Orchestras in Louisiana and the Plano Chamber Orchestra in Texas.
Dr. Gibson has performed on clarinet and saxophone with numerous artists including the Temptations, Martha Reeves and the Vandellas, Gene Ferrari, Patti Greco, Michael Andrew, Andy Williams, the Jimmy Dorsey Orchestra, Guy Lombardo Orchestra, Stars of the Lawrence Welk Show, Henry Cuesta, Myron Floren, Don Rickles and Frankie Valli. She has been a member of the house orchestras aboard Carnival Cruise Lines' Fantasy and Ecstasy, Costa Cruise Lines' Costa Classica, Holland America Cruise Lines' Nieuw Amsterdam and a guest soloist on Cunard Cruise Lines' Queen Victoria and Queen Elizabeth. She has performed at the Grand Teton Music Festival and the Classical Music Festival in Vienna. She has presented recitals/clinics in Japan, Singapore, Malaysia, Austria and Switzerland and for the International Clarinet Association, Music Teacher's National Convention, Regional Saxophone Symposium and the South Dakota Bandmaster's Association.