A Festival of Woodwinds
February 3, 2024
SMSU Fine Arts Building
The Festival of Woodwinds is a day-long workshop for woodwind players featuring guest flutist, William Cedeño.  The day will include woodwind choir rehearsals, a guest recital, a guest masterclass, and a Finale Concert.  The event is open to any and all woodwind players regardless of age or ability level.  It is also open to directors and other musicians interested in woodwind performance.
Registrations will be accepted beginning on December 18, 2023 with the following fee structure:
        Early registration (by January 26, 2024)--$15 per person  (includes lunch)
        Normal registration (after January 26)--$20 per person  (includes lunch)
                **Directors bringing 5 students or more can receive a discounted rate.  Contact Dr. John Ginocchio.
Application Materials:  download application
Schedule for the day:
        8:30-9:00 a.m.       Registration/Check-in
        9:00-9:30               Warm-ups
        9:30-10:45             Woodwind Choir rehearsal
        11:00-12:00           Guest clinician recital 
        12:00-1:00             Lunch (provided)
        1:00-2:30               Workshop session / Masterclass  
        2:45-4:30               Woodwind Choir rehearsal
        5:00                       Finale concert
Guest Artist, William Cedeño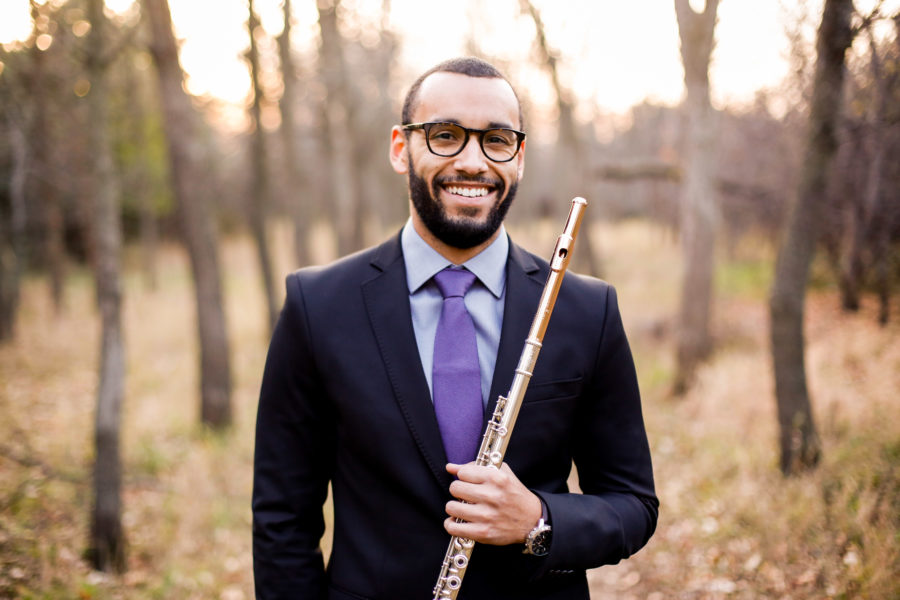 Principal Flutist of the South Dakota Symphony Orchestra, William Cedeño, was born and raised in Caracas, Venezuela. He started his musical career at the age of 9 in the world-renown Venezuelan program, "El Sistema."  In 2003, William was accepted into the Simon Bolivar Conservatory of Music and entered the studio of Miguel Pineda for flute and piccolo.  A few months after that, he won the the principal position at the Francisco de Miranda Orchestra.
After moving to the United States, William attended Idyllwild Arts Academy as a post-graduate high school student under a full scholarship and joined the studio of Sara Andon.  Since he moved to the US, he has participated in master classes with teachers such as Carol Wincenc, James Galway, Emmanuel Pahud, Robert Dick,  and Jean Ferrandis.  In 2011, he was accepted into the San Francisco Conservatory of Music where he finished his undergraduate studies in the studio of Timothy Day.  His most recent accomplishments include winning the Berkeley Piano Club Competition, the Miami Summer Music Festival Concerto Competition, and the San Francisco Conservatory of Music Concerto Competition. William recently finished his first year of a masters degree program in Flute Performance at the Rice University's Shepherd School of Music, studying with Leone Buyse.